Calabria is a region in the southern part of Italy. With only 9 percent of flat land, most of Calabria is comprised of hills and mountains. Unlike many places that are frequented by tourists, Calabria does not possess a multitude of historic and constructed tourist attractions. Calabria does not have the many tourist spots that the whole of Italy has. Though, there are also ancient bridges, churches, and castles what Calabria boasts for is the pure and real beauty of the place and its dwellers.
While all the bigger cities and provinces in Italy have updated to the modern civilization, Calabria with remnants of the magnificent ancient civilization still offer the old warm captivating appeal to the gallant sightseer. The unpolluted air and clean water are such a sight to behold for anyone who visits Calabria. Aside form the coastline and mountains that primarily draw tourists in Calabria, the warm and cordial character evident to Calabrians add to the real beauty of the place.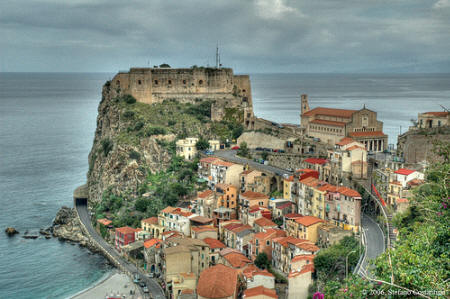 Where to go in Calabria
Reggio Calabria, popular for its extraordinary scenic sight of botanical gardens between floral and plant inspired structures and awesome beaches. The area is also famous for its 3000 year history of the ancient Aragonian Castle and the noble National Museum of Magna Grecia.
Scilla, on the Tyrrhenian Sea, the location of some tales of Homer has a rich history of significant religious traditions. It is also considered as the "Pearl of the Violet Coast."
Tropea, on the Tyrrhenian seashore, is a really nice town, popularly known for its sweet red onions.
Capo Vaticano is a very prominent, inviting, and wide bathing place near Tropea. The wide beaches are perfect for those who love to spend summer seaside pleasure.
Pizzo Calabro, situated on the coast of Tyrrhenian Sea is popularly known for its ice cream called "Tartufo". Piazza Republica is also a worth visiting place in Pizzo.
How can you reach Calabria?
The speedy way to reach Calabria is by air travel. There are 3 airports: Tito Minniti in Reggio Calabria, S. Anna in Crotone, and Lamezia Terme Airport.
Intercity and Espresso trains interconnecting Calabria to the main towns of northern Italy are making travel to and from Calabria a lot easier than it was years ago.
Others travel to Calabria by ship and ferry boats from Sicily to Reggio Calabria.
Traveling by car is also an option for travel because of the motorways that runs within the whole province from north to south.
A trip to Calabria will not only provide the chance to see amazing sights of nature. Like other tourists that continuously return to Calabria after the first visit, you will not only see but also feel the Calabrian experience.
Stumble it!