Estepona is a town situated in Costa del Sol, Andalucia, Spain. The town comprises essentially of a fishing and farming community and despite modernization it has retained its basic Spanish essence. Situated 25 kilometers from its glamorous neighbor Marbella, it's a perfect spot for a nice holiday with your family. It can be reached in an hour from the Malaga international airport.
The Sierra Bermaja Mountain standing tall at 1449 meters forms a serene backdrop to this city which is fast on its way to becoming a favorite tourist spot among foreigners. Calle real and Calle Terraza house most of the modern shops in the centre of the town. If you have a special liking for small shops, then a stop at the street café in the plaza de las Flores (the square of the flowers) is recommended. In the olden part of the city, the streets are narrow and cobbled and you would prefer a horseback ride for a car through these streets.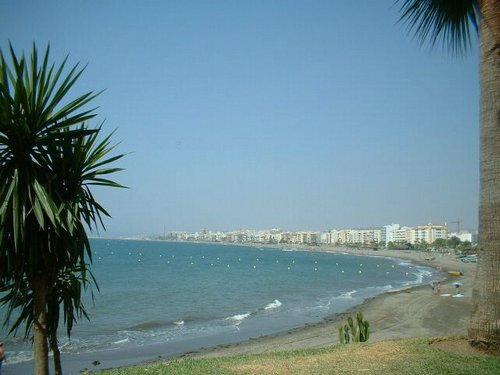 The indoor market opens in the mornings near the castle ruins where one can enjoy shopping for fresh fruits and vegetables and get a sneak peak into the life of a traditional Spanish housewife. The clean long stretches of sandy beaches are every tourist's favorite haunt. The beaches are well maintained and well equipped to cater to the inflow of a fast rising number of tourists. There is also this sandy La Rada beach in central Estepona and the Playa el Cresto, a sheltered cove, on the western marina. For those who want to have a night out dancing in the discos along the quayside until the small hours of the night, Estepona marina which bustles with activity both during the day as well as on nights is the place for them. The marina is on the western seafront and is an ideal place for those who would just like to take a peaceful stroll or watch the crashing waves in the sea. It is divided into two halves, one consisting of the working fishing vessels and the other for pleasure water rides. There are some truly magnificent yachts and pleasure boats available for rides. For all the culinary enthusiasts, there are many bars and restaurants which serve tapas, local Spanish delights besides international cuisine and unavoidable pizzas and burgers.
There are many parks, gardens, monuments and museums as well that blends easily with all the glitz of modern tourism apartments, hotels, clubs and bars. For entertainment, those with a passion for water sports will truly enjoy this place to the maximum for it offers a host of water sports and games. Golfing is one of the most common hobbies of the residents and don't get amused if one stumbles upon some excellent golf courses at the doorstep! A riding school is also active.
A visit to this beautiful city of Estepona is sure to rejuvenate your system and prove to be a great holiday which will always be cherished.
Stumble it!