Wednesday, October 10th, 2007
Spain is a wonderful country that attracts many tourists thanks to its sunny climes and affordable holidays and there is also a lot to see and do in Granada including the Albaicin Quarter where there is the ArabWells, San Nicolas and San Salvador to visit. Besides, you can also visit the Alhambra Hills and view the interiors of the Alhambra Palace and more particularly the Baths, Court of Lions, and Court of Myrtles, Hall of Ambassadors, Arrayanes, Hall of Kings, Hall of the Two Sisters, Alhambra Palace – Mexuar, Patio de Lindaraia, Queen's Dressing Room, and Sala de los Abencerrajes and also Sala de los Ajimeces.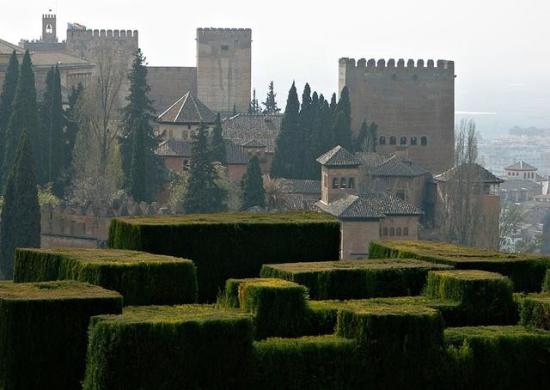 There is also the Alhambra Palace Towers where you can view the Battlemented Tower, Other Towers, The Torre de las Infantes, Torre de las Damas, Torre del Aqua, Torre del Candil, and Tower of the Girl Captive. In addition, there is also the Alhambra Park that is worth visiting and there is also Architect's Garden with a Park and also the Palacio del Generalife. Other places to see are the Puerta de la Justicia.
Other tourist attractions include the Square of the Cisterns and the Alcazaba as too the Torre de la Vela. In addition, there is also the Palacio de Carlos V and also the National Museum of Hispano-Muslim Art, Provincial Museum of Art. While in Granada it will also be worthwhile to visit the Cathedral and more particularly the Cathedral Capilla Mayor, Cathedral Capilla Real and Capilla Real Sacristy.
The Alhambra Palace is certainly a must see palace and the palace itself lies to the north of Charles V palace and it was once the residence of the Moor Kings of the Nasrid dynasty. The palace itself has surrounding walls and many towers and the Arabs called it the "Red City" because of the color of the stone used in the palace, and when you buy your ticket you get admission for half an hour though there is no restriction to the visiting times.
The Palacio del Generalife is another great tourist attraction and it lies to the east of the Alhambra palace and also on Cerro del Sol slopes and it was also where the Moorish royalty and the kings lived during summer times being completed in the year 1319 under the reign of Ismail I.
There is also the palace that was constructed for Charles V and which lies to the east of Plaza de los Aljibes and though the construction of this palace began in 1526 it was not completed. However, the Palacio de Carlos V is still a must see when in Granada and even though it never was completed, this palace is still a huge structure and is a shining example of the architecture of Spain and more particularly its High Renaissance architecture.