Thursday, November 1st, 2007
The Island of Andros, also known as Andros Islands, is the largest and most fertile of the Greek Cyclades Islands. Located 30 kilometers southeast of the mainland port of Rafina in the Aegean Sea, Island of Andros is the much loved vacation spot for well-off Athenians. Most of the persons belonging to this rich class have built their own holiday homes to serve as their hideaway in this idyllic beach holiday destination.
Andros Island presents many ideal sights to see and places to visit. Travelers who love to visit museums and walk around remarkable spots has a lot to enjoy in the Island of Andros. For the exploring traveler, country roads and walkways leading through pine trees and mulberry woods are ideal options for those who love to explore and discover exquisite local villages built on the mountains and mountain springs.
Another distinctive feature of the Andros Island is the meandering dry stonewalls and very old dovecotes that are elaborately decorated influenced by Venetians during the 13th century.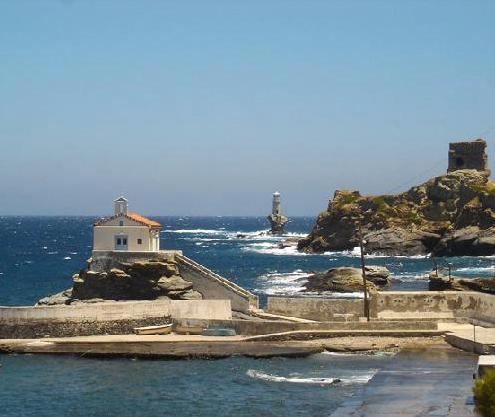 Things to do in the Andros Island
With a 110 kilometers shoreline and the number of sandy beaches reaching to more than 300, the Island of Andros is a perfect place for a beach holiday seeking traveler. However, if you wish to stay away from overcrowded beaches, do not go to a beach in Batsi- the island's tourist capital, instead consider going to the beaches located in the northeast corner of the island. However, there are also many popular and beautiful beaches in the north and south of Batsi. Water taxis are abundant in the area so travelers can go to and from the beaches easily. These water taxis continuously ran back and forth to connect the main beaches in the island and to help beach guests to reach even the hardest to reach beaches.
Hiking is another activity that travelers can do during their stay in the Island of Andros. This is a perfect place where they can go for a walk and wander without missing a reasonably priced Greek delight at a riverside taverna, taking note of the sounds coming from the nightingales in the area. Because of the presence of this well-maintained walker's trail and amazing panoramic view that the island offers, the Island of Andros is also tagged as a "hiker's paradise."
Water sport activities are naturally possible in the Andros Island. All the structured beaches in the island offer all water sport facilities. Island of Andros is ideal for wind surfing, diving and boat trips.
The isolated bays of the island each offering their own share of lovely breathtaking backdrop is ideal for the traveler looking for a relaxing hideaway. Indeed Andros Island has a lot to offer among all kinds of travelers. If you are planning to explore the country of Greece, a stop at the Island of Andros will give you the chance to experience a very memorable Greek beach holiday.