Saturday, May 26th, 2007
Mexico, or the United Mexican States as it is officially known, is a wonderful country located to the south of Texas and is a part of North America that also has wonderful beaches where the waters of the Pacific Ocean touch it to its south as well as west, and the Caribbean Sea lies to its east, with Guatemala as well as Belize lying to its southeast. It is a constitutional republic and comprises thirty-one states that are bound into a federation with Mexico City being its capital that is one of the most populous cities on the face of the planet.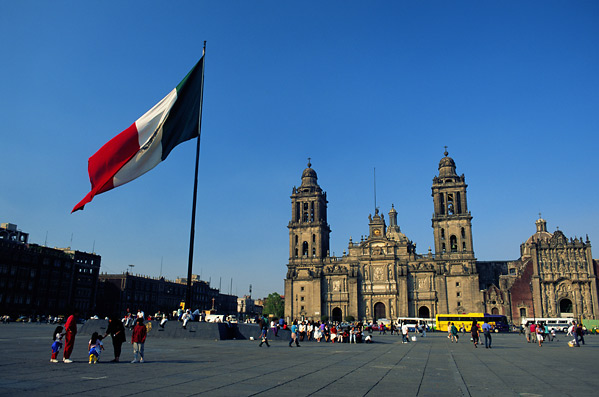 Mexico is also a fairly large country that is the fourteenth largest country in the world and has an estimated 109 million people living there which makes it the eleventh most heavily populated country in the world, most of whom speak Spanish. Mexico is divided by the Tropic of Cancer with one part of the country being tropical and the other temperate. In addition, many of the larger cities of Mexico lie in the Valley of Mexico or in other neighboring valleys that have elevations of two thousand meters which means that the climate here is generally temperate.
This country also is the seventeenth most mega-diverse country in the world having more than two thousand different species and it has ten to twelve percent of the biodiversity of the world. Mexico enjoys a free market economy being one of the higher middle income countries of the world and it is very prosperous as far as other Latin American countries is concerned ranking highest in this respect.
Mexico is also a wonderful tourist destination, which is its third largest industry and most of the tourists are attracted to the ancient Meso-American ruins, not to mention its wonderful beaches. With a coastal climate as well as a very unique culture that blends European with Meso-American cultures, Mexico is certainly a very attractive place to visit. Peak tourism occurs during December as also during July through August.
Without a doubt, Mexico can be considered as being paradise for every traveler that comes to this part of the world. It has deserts, snow-capped volcanoes, ancient ruins, industrialized cities, colonial towns in a time warp of their own, glitzy resorts, lonely beaches as well as some of the best flora and fauna that you can find anywhere on the planet. Some of the places to visit in Mexico include Acapulco, Cabo San Lucas, Cancun, Cozumel as well as Mexico City.
Some of the larger cities in Mexico include Ecatepec, Guadalajara, Puebla as well as Monterrey. The religion is mainly Roman Catholic and the language mainly Spanish. It is also a wonderful place to take your kids for a vacation.