Wednesday, September 19th, 2007
A visit to sunny Morocco should allow you to explore many of the interesting places including places such as Asilah, Casablanca, Essaouira, Fez, Imlil Gorges, Marrakesh, Meknes, Quarzazate, Rabat, Tangier, Tetouan and Zagora.
When in Marrakesh be sure to check out the Agdal Orchard, Badii Palace, Jebel Toubkal, Imlil, Bahia Palace, Dar Si Said Museum, Koranic School, Koutoubia, Djemaa el-Fna Square, and the Majorelle Museum. There are also many souks worth visiting and in the surroundings you can visit places such as Aghmat, Dar Caid Ouriki and High Atlas Mountains as well as Oukaimeden, Ouzoud Falls, and Tin Mal Mosque as well as the excellent tisi n'Test Pass.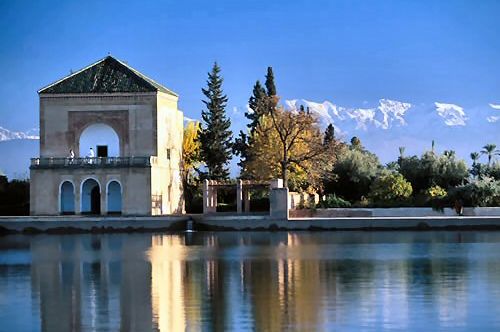 And, there is also Tangier that is sometimes referred to as the Gateway to Morocco and which is the summer capital of the country. The best places to visit in Tangier include Cape Spartel, Grand Mosque, Grand Socco, Forbes Museum of Military Miniatures, Church of Immaculate Conception, Gran Teatro de Cervantes, Kasbah Museum, Petit Socco, Mendoubia Gardens, Musee d'Art Contemporain, Museum of Antiquities, Terrace of the Idle, United States Legation and in the surrounding areas there is Artistic Festivals to attend, and the Ethnographic Museum as well as the Archeological Museum in Larache.
Places that you can visit in Rabat include Chellah Necropolis, Hassan Tower Mausoleum and Mohamed V Mausoleum. Other attractions in Rabat include the Archeological Museum, Bab Rouah, Bour Regreq Dam, the excellent Consules Street, Costume Museum, Hassan II Avenue, Merinide Mosque, Museum of Moroccan Arts, Natural Science Museum and Oudaias Kasbah and Postal Museum, the Royal Clube Equestrian Riding School and the Royal Palace and also Sebbat Souk.
The Hassan Mausoleum holds the remains of King Mohamed V and this is situated close to the Hassan Tower, and this mausoleum is famous for being the place where Mohamed V returned from exile and where many thousands of Moroccans gave thanks to God for making their country free.