Sunday, October 7th, 2007
Situated in a fertile plain on the northern-eastern banks of the Mekong River, Vientiane is the capital of Laos as well as the biggest village in Asia. The cultural and commercial center of Laos, Vientiane is home to an amazing range of temples, shrines, and historical monuments. Vientiane was once the capital of Lan Xang kingdom until its fall in 1707. Later, it was occupied by the Siamese general Phraya Chakri in 1779, and made a vassal of Siam. It was during the 19th century that Vientiane was declared the capital of Laos under the French protectorate. Today, Vientiane is a vibrant city, which at the same time retains a grace and charm of its own. The city is made up of five districts such as Chantabuly, Hadxaifong, Sikhottabong, Sisattanak, and Xaysetha.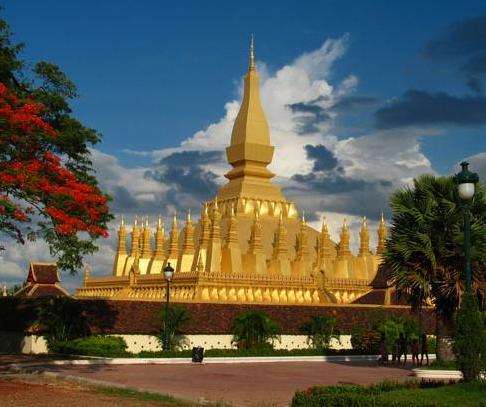 The prime attraction of Vientiane is unquestionably its historical sites and monuments. Of which that deserves a special mention is Pha That Luang, a great sacred, castle-like Stupa built by King Setthathirat in 1566. Situated atop a hill, the Stupa is believed to have been erected on the site of a former Khmer temple of the 11th century. Legend has it that That Luang is the resting place of a remnant of the Buddha that is thought to have been brought here by some Buddhist missionaries from India during the 3rd century. This historical site now stands as a testimony of the Lao sovereignty as well as the effect of Buddhist religion in the region. Another great historical site in Vientiane is Wat Sisaket – an elegant temple built by King Anouvong in 1818. The main sanctuary of the shrine houses more than 6500 images of the Buddha, made of a variety of metals like bronze, silver, wood and clay. Many of these images date back to the periods, ranging from 16th to 19th century. The temple premises also contain murals elucidating the lives of the Buddha. Apart from these, a Burmese-style library can be seen here.
Additionally, historical sites in Vientiane include Wat Ong Teu Mahawihan, whose highlights are a large bronze statue of the Buddha, a big drum, and intricate carvings. Other popular historical sites in the area are Haw Pha Kaew, housing a throne, manuscripts and bronze drums, and Ho Phra Keo, which was formerly a monastery.
A must-see destination in Vientiane is Buddha Park, a sculpture garden which is strewn with an incredible variety of Buddhist as well as Hindu statues. Further, Vientiane's attractions cover an interesting array of museums such as the Lao Revolutionary Museum, exhibiting artifacts used by Laotians and imperialists, such as, uniforms, maps, and guns; and Kaysone Phomvihane Museum, which is devoted to the life of the Pathet Lao leader.
Boasting of a variety of restaurants, bars, and bakeries, Vientiane also offers excellent options for entertainment and eating out. Talaat Sao, popularly known as the morning market, is a great place for those who want to enjoy a bowl of sumptuous noodles and grilled chicken. Some of the restaurants in Valencia's Chao Anou St serve delicious duck rice. Dining options also include night market, where available are grilled chicken, pungent curries, and spicy salads, among many others.
Above all, Vientiane is a shopper's paradise, with scores of outlets and stores selling pure silver, ethnic collectibles, elegant clothing, hand-made jewelry, and antique items.