Tuesday, October 30th, 2007
This minor town tagged as the "Pearl of the Swiss Riviera," is located in Lake Geneva. Montreux is popularly known for the famous month-long celebration called the Jazz Festival, or more popularly Montreux Jazz Festival, which is held every July. Those who are jazz enthusiasts or in general music lovers will surely not miss including Montreux when visiting Switzerland. But, even those who are not jazz aficionados will surely enjoy wandering around this fascinating town located on the Swiss Riviera. World- famous wineries, prehistoric castles and the dramatic atmosphere of the mountain views are enough grounds why many travelers choose to spend their holiday in Montreux.
What to Do In Montreux
A walk along the promenade blissfully lined with flowers and palm trees provides an enchanting yet relaxing experience for visitors seeking a less demanding activity to enjoy. The shore along with its small water inlets offers many activities that visitors will truly treasure. Bathing in this small coves are enough to satisfy any group that may flock along this palm-lined pathways. Visiting Chateau de Chillon, the most recognized landmark in Montreux is a must especially for first time travelers to this town.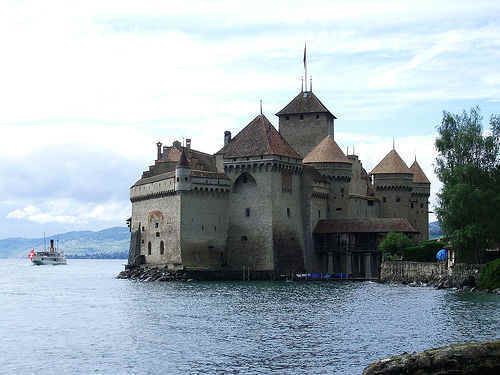 The admirable location of being between lake and mountains offers a lot of opportunities to enjoy the stay even by just wandering or strolling within the locality of Montreux. The Jazz Festival that is habitually occurring during the month of July is not the only international event that travelers can enjoy in Montreux; there are also theatrical performances, concerts featuring classic musical performances, and Christmas market held in Montreux during each season.
Other Activities to Enjoy in Montreux
You might be amazed with the very inviting diversity of sceneries in Montreux that is ideal for many kinds of leisure activities or even sports activities, which travelers can enjoy doing as they spend their holiday in Montreux.
Montreux has a complex network of way marked trails, suitable for hiking purposes. Hikers will unquestionably enjoy the eye-catching scenery within Montreux as they continue to discover the hiking course within the district during the summer season. Visitors during the winter season can also have their own share of activities to enjoy while in Montreux. Downhill skiing, snowshoe hiking and snowboarding Even travelers looking for adventure can have a bite of it in Montreux. Paragliding is one of the adventure sports that many love to do; paragliding over the area offers adventurous persons to enjoy the fantastic scenery below.
Where to Stay In Montreux
Montreux provides a lot of accommodation choices for every tourist traveling to Montreux. It is a wise idea to check with a travel agent or booking agency on the availability of best hotel deals to suit your needs and wants.